As all of my readers know I cracked open a case of 2012 Topps Chrome. That commemorated my first day of sharing and blogging extensively and I had a great time doing it. I've since traded with a couple of you and have some more trades in the works that I look forward to completing.
Within Topps Chrome there is photo variations of a number of players. They fall one every 900 packs or so. In this case I hit on the Bryce Harper black auto, and the cut from the same cloth dual auto Matt Moore/Jeremy Hellickson so I thought no way there was a photo variation too. I had already shipped off a bunch of base cards and wasn't concerned in the least that I had traded one of them. My girlfriend disagreed and said we should check anyway. I said she is free to check and can use the set that is bindered to compare the pictures. We pulled up a check list and low and behold ICHIRO!!!!
Base Card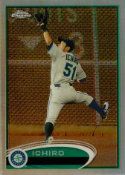 Photo Variation that I now know I have!
Has anyone else discovered hidden gems by accident? Always fun!